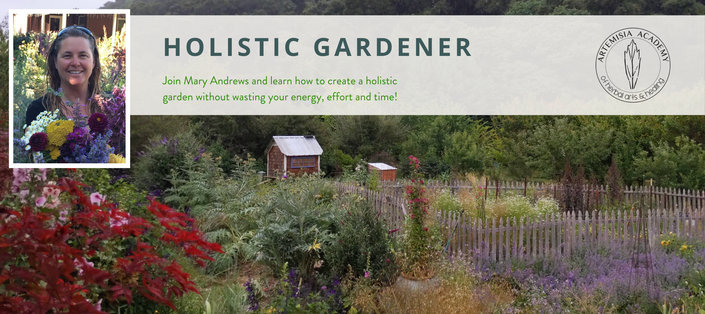 Holistic Gardener (Spring 2022)
Design & create your own Holistc Garden with an experienced Horticulturist & Homesteader!
Enroll in Course
Thursdays, March 3 - May 19, 2022,
4:00 PM –7:00 PM PDT
36 Hours of LIVE Online Hands-On Learning
200 years ago, most people lived on farms and produced their own food to eat. Today, less than 2% of people in the US produce food or know the basics of how to. Are you ready for the next wave of food shortages and natural disasters?
If you...
Are passionate about growing your own food and ready to start your backyard homestead,
Have tried gardening already, and can't seem to make things grow right,
Are tired of watching endless youtube videos and buying gardening books,
Want to be confident in your decisions of what seeds to buy, and what actually grows best in your area,
Then join Horticulturist & 15 year Homesteader & Organic Gardener, Mary Andrews, to learn how to create your own holistic garden without wasting your energy, effort and time.
In this LIVE online class we will study Polyculture, Permaculture & other holistic design principles. Get an easy-to-follow approach to learn how to create your own sustainable backyard homestead, including integrating fruit & nut trees, herbs & flowers, chickens, drought tolerant plants, and more.
Join us for virtual tours of local farms & homesteads of all sizes , and learn how to turn your own back plot, yard, or balcony into an edible food forest. Learn side by side with your new community of holistic homesteaders and connect to other like-minded people just like you.
What you will learn:
Learn how to create a Holistic Garden with nature as your partner instead of your enemy
Develop a master plan for your space, and know how to utilize all of its design strengths
Turn your balcony or property into an edible paradise, and have a step by step guide holding your hand along the way for how to get there
Relearn the forgotten skills of our grandmothers & grandfathers
Start investing in your own self sufficiency & food security skills
Learn how to grow your own food that is free from chemicals, pesticides & herbicides
Develop a healthier relationship with your food, the land, and the earth's natural cycles
What you will get:
12 LIVE online classes, taking you step by step through creating your holistic garden
Worksheets & Planning Pages to Design your Dream Garden
Resource Guides for Gardening Supplies & Plants
Dozens of Plant Profiles, so you can choose the best plants to plant for your area
Virtual Tours of Local Gardens, Farms & Homesteads
Hands on Demonstration Videos & easy to follow Instructions for every aspect of gardening
Lifetime access to the recordings & course materials
Live Support & Coaching from Horticulturist & Homesteader, Mary Andrews
A new community of holistic-minded people just like you
Even if you plant only 1 plant, an apple tree for example- you will provide shade for your house, leaves for your compost, fruit for your family, and offset your carbon footprint! Buts let's do more than plant one plant, let's build your dream garden too!
Your Instructor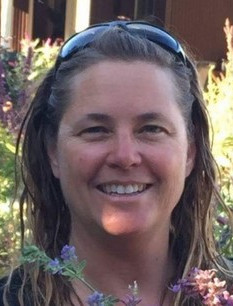 Mary has a Bachelor of Science in Horticulture, has studied Permacutlure and Herbalism and has worked in both retail and wholesale nurseries. She has been growing food, flowers, and herbs in her current 2 acre garden since 2004. Her garden has over 150 fruit and nut trees, an asparagus patch, raspberry field, annual vegetables, perennial vegetable, butterfly garden, medicinal herbs, heirloom roses, free range chickens and many many bee friendly flowers.
COURSE SYLLABUS

Class 1: Course Overview
Clarifying Your Vision
Looking at the BIG picture
Visioning your future holistic garden
Virtual Tour of holistic gardens for every scale
Class 2: Planning the Site
Assessing existing conditions
Mapping your property
Matching plant needs with your needs and conditions
Design strategies
Class 3: Preparing the Soil
Soil preparation demonstration
Basic growing methods
What you need to know before you grow
Class 4: Growing Organic Vegetables
All about Growing vegetables
Edible Plant profiles
Staple Crops
Class 5: Propagating from seeds & cuttings
Plant propagation demonstration
Starting from seed
Making new plants from Cuttings
Class 6: Polyculture & Planting to Attract Pollinators
The importance of growing flowers!
Plants to include for pollinators, wildlife, cut flowers,
Permaculture concept of multi-functioning plants
Class 7: Growing Kitchen Herbs
Easiest herbs to grow - Plant profiles
Starting your home apothecary
Adding herbs into your garden plan
Class 8: Planting the Orchard- Fruit trees, berries and Nut trees
How to grow trees and vines
Orchard design - from one tree to one hundred - get the most out of your space
Pruning & Grafting Demonstration
Disease proof you orchard
Class 9: Watering the Garden
Grey water, rainwater
Water conservation strategies
Plant profiles of drought resistant edibles
Class 10: Storing the Harvest
Storing the harvest
Saving seed for next year
Chickens in the garden
Class 11: Troubleshooting Garden Problems
Solving your garden problems
Live q & A for students
Garden tools including best power tools for people with smaller hands!
Class 12: Sharing your design
Class review
Present your garden & long term plan
Get Feedback & Tips for Your Garden
Course Curriculum
Class 1- Clarifying Your Vision
Available in days
days after you enroll
Class 2- Planning the Site
Available in days
days after you enroll
Frequently Asked Questions
Who is this course for?
This course is designed for beginning gardeners whether you have never planted a seed before, or are just new to growing your own vegetables and herbs. If you are an experienced gardener, come along with us to go more in depth into site planning, orchard design, and how to take your garden to the next level. Whether you have a few pots on a balcony, a small backyard, or acres of land, there is something in this class for food production at any size.
What do I need?
Basic gardening supplies, like gloves, shovels, trowels, clippers, pots, seed flats, and potting soil will be needed. A supply list will be emailed to you before class so that you will be prepared. For those growing food on a larger scale, we will provide recommendations for how to resource affordable materials. No matter time, energy, or financial resources, you will learn how to build a garden that works for you!
What if I miss the live class?
Anyone who registers for the class will be given access to the online class portal. All class recordings will be available to watch anytime. Class notes and hand outs will also be posted online, so no matter what, you won't miss anything! If you work during the day, and still want the live support and coaching, don't worry! Our class will have an online forum so you can still ask questions and get feedback throughout the entire course.
If you are interested in learning more about becoming a Holistic Homesteader, this course is part of the Holistic Homesteader Program. If you want to go beyond this class and learn not only how to grow your own food, but design your home to be more green, build a rainwater or greywater system, raise bees or animals for food products, and much more, you can join us for more hands-on classes in the rest of the program.
Visit www.ArtemisiaAcademy.com/workshops to learn more.